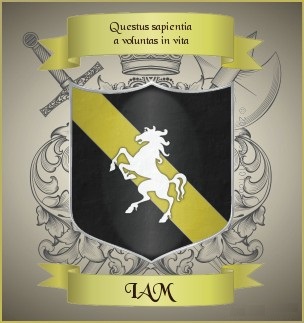 International Academy of Magic, also known as IAM or International Academy of Mastery is a school for Witches and Wizards from across the nation to learn the many branches of magic and the techniques to master their skillful use. A number of alumnae each year return as Professors with a few even becoming Head Masters/Mistresses.
About IAM
International Academy of Magic Roleplay Wiki is like any other Wizarding world school-themed Roleplay wiki, the only difference is :
The school is considered Canadian-American, it is located just over the USA border from North Dakota along the Red River Valley. The land is unplottable, ancient magic has been placed on it by the founders, the former and recent staff members, and former students to keep it protected. The property to outsiders resembles a grain farm, to the people who have lived and worked or ever visited the school, it can be seen as it looks.
Students accepted into IAM can be from any ethnic background, and live or have been born in any country. IAM accepts transfer students and foreign exchange students. Students range anywhere in age, First Years being from 10 to 12 the youngest possible age as an underclassmen, and Twelfth Years being from 21-23 the eldest possible age as a Master Class student.
The Master Class is a progamme comprised of students (Adults) the may have graduated from other wizarding schools (or our own) and choose to continue their education her at IAM.
The years are 1 through 12. The older students after 7th year are referred to as the Master Class students (First through Fourth (8-11) or Senior Masters (12th years)) separated from the younger children, on a different part of school property. Master Class students in years 8-12 may live on or off school grounds, they are no longer permitted to enter underclass Common Areas or Student Rooms.
Course Catalogue
C - Core Courses
A - Advanced Courses
X - Not Offered
Years
Fundamental Class
Master Class
Course
Professor(s)
1
2
3
4
5
6
7
8
9
10
11
12
Agriculture

Cultivation of animals, plants, fungi, and homeopathic brewing

Professor Turner
C
C
C
C
C
C
C
C
C
C
C
C
Spell Creation

Practice and creation of utility spells

Professor Cimorelli
C
C
C
C
C
C
C
C
C
C
C
C
Magical Devices

Operation and invention of Magical devices

C
C
C
C
C
C
C
C
C
C
C
C
Martial Magic

Offensive and defensive spells

C
C
C
C
C
C
C
C
C
C
C
C
Shifting

Body Transformation - Full, Partial, Self, Other (Transformation of others)

C
C
C
C
C
C
C
C
C
C
C
C
Manifestation

Appearing in another location - Multiples, Astral, Switch (Switching your location)

A
A
A
A
A
A
A
A
A
A
A
A
Non Magic Theory

Living with little to no magic

A
A
A
A
A
A
A
A
A
A
A
A
Flying

Guided and Unguided

C
A
A
A
X
X
X
X
X
X
X
X
Animal Studies

Study of Animals (Living or Dead)

A
A
A
A
A
A
A
A
A
A
A
A
Paranormal Studies

Study of the Paranormal Night or Day (Lecture or Lab)

A
A
A
A
A
A
A
A
A
A
A
A
Magic History

Academic study of the history of Magic

A
A
A
A
A
A
A
A
A
A
A
A